BDS at 7 years and the changing discourse on Palestine: reading round-up
July 17 was a multi-city day of action for the national We Divest campaign demanding pension-giant TIAA-CREF divest from all companies profiting from Israel's occupation of Palestine. Activists–including members of OWS Global Justice–were out on the streets  in front of TIAA-CREF headquarters in NYC for the annual shareholders meeting. They were also inside the meeting, where CEO Richard Ferguson acknowledged that the We Divest campaign influenced TIAA-CREF's decision to drop Caterpillar from its Social Choice fund, and that they will be monitoring developments in the global Boycott, Divestment, and Sanctions (BDS) movement, initiated by Palestinian civil society in 2005.
VIDEO: Although midday temperatures were close to 100 F, the NYC protest, organized by Adalah-NY, was spirited, with a choreographed divestment dance,   T-I-A-A-CREF (to the tune of "YMCA").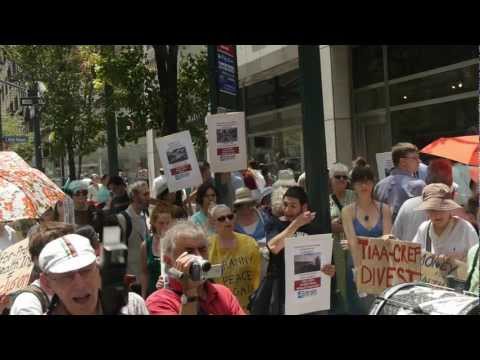 The We Divest day of action came as the global BDS movement enters its seventh year. To mark the occasion, Palestinian BDS activists took this look back at highlights from the movement's rapid growth across the past two years.
In the United States, the votes on divestment resolutions within the Methodist, and then Presbyterian, churches have been a recent focal point. Anna Baltzer, in her article "The Pendulum Swings and New Era Has Begun,"  analyzes the victories and challenges at the Presbyterian Church General Assembly, and Abe Greenhouse, also reflecting on the politics of representation, looks at the role of anti-divestment organizers in the vote, concluding that liberal Zionist groups J Street and Americans for Peace Now, both of which have shown themselves willing to partner with rightwing groups to fight BDS measures, are the biggest losers.
Another recent victory getting mainstream media attention has been Abigail Disney's public disownment of her share of profits from the Disney family fund's investment in Israeli company Ahava Dead Sea Laboratories, which since 2009 has been the target of the Stolen Beauty boycott campaign. Disney's disclaiming of her shares follows on a flurry of setbacks for Ahava, which Stolen Beauty campaign manager and OWS Global Justice member Nancy Kricorian just recently wrote about on this blog.
Alon Liel, the former Israeli ambassador to South Africa, also made headlines recently when he publicly expressed support for the South African policy to apply different labeling to settlement products and endorsed the academic boycott of the Ariel (settlement) University Center.
More broadly, there just seems to be more space for public discussion of what's happening in Palestine. An image of the shrinking map of Palestine is up at a prominent Metronorth commuter platform, and Henry Clifford, whose email is on the billboard, told Mondoweiss, "I've been plowing this field for many years and I am absolutely astounded by the response I've received, and the news coverage…We've been begging for coverage for years. Now it's pouring in." He noted that CBS, Fox News, NBC and many radio stations contacting him for interviews and that "the questions were fair ones."
And people seem more likely to see through the anti-semitism smear that is routinely trotted out against those critical of Israel. When Armin Rosen accused Mondoweiss, and specifically contributor Alex Kane, of anti-semitism in The Atlantic, not only did readers reject the claim (as evident in the top-ranked comments), but The Atlantic's own Robert Wright denounced Rosen's piece as McCarthyite and issued an apology to Kane. Mondoweiss's Alex Kane, Adam Horowitz, and Philip Weiss also issued their own response to Rosen's smear, noting that "this [wasn't] the first time Rosen has offered himself as an attack dog. He distinguished himself during his time in a joint Jewish Theological Seminary/Columbia University program by being an especially shrill voice in the campaigns to deny Joseph Massad tenure at Columbia." Other Columbia professors Rosen has targerted, they note, include Mahmood Mamdani and Hamid Dabashi.
Writing for Electronic Intifada, Benjamin Doherty pointed out that while the round of condemnation of Rosen's smear against Mondoweiss is commendable, there's still a long ways to go: Palestinians continue to be excluded from new media and don't receive the same protection from smears of anti-semitism–as evident, for example, in how few people spoke out against the McCarthyite campaign against Joseph Massad.
Another #fail for the suppression of Palestine solidarity came in the courtrooms: a judged ruled that the five Olympia Food Co-op members who had tried to sue the co-op after it voted to boycott Israeli goods would themselves have to pay $160,000 in damages. Their lawsuit, which was backed in part by the far-right Zionist group Stand With Us and the Israeli Consulate of the Pacific Northwest, had previously been ruled to be an illegal Strategic Lawsuit Against Public Partcipation.
Plus, two more picks for further thought and inspiration:
What Is Settler Colonialism? by Maya Mikdashi, on Jadaliyya.
Powerful photoblog of sumud (steadfastness) in Susiya. By Lazar Simeonov, on al-Akhbar English.
Update (12:20 PM July 23): On Alternet, Anna Lekas Miller looks at the We Divest campaign and the shifting tides of public discourse on Palestine in her recent article "Crushed Homes, Violent Killings: Why the Boycott Israel Movement Is Pushing into the Mainstream."